It doesn't seem very practical, but I have proof that Mom wore quite a snazzy outfit to an outing at NYC's Bronx Zoo.  I always thought of her as fairly casual, like in this snap of us in Provincetown where we used to summer.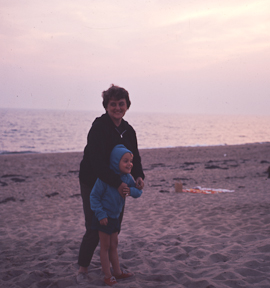 And then I came across this shot.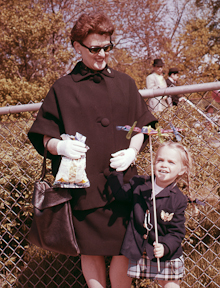 Dig the white gloves. Can you friggin imagine wearing a capelike ensemble and gloves to the zoo.  I do wish I had that bag, though. It's pretty damn cool.  I remember loving that blue blazer that I'm wearing.  It had a weird sparkly crest on the pocket.  I also loved that plaid skirt that her friend Eve brought me from Scotland.  Eve was a Brit who married a friend of Dad's.  She always brought back the most stylish clothes for me – duffle coats and mini skirts from Carnaby Street.  I also remember she gave me a bracelet that was four round balls decorated to look (kind of) like the Beatles.  Imagine what I'd get for that on Ebay today, but I digress.
So Mom really was quite the fashionista.  She loved summer hats. Here's one from before I was around.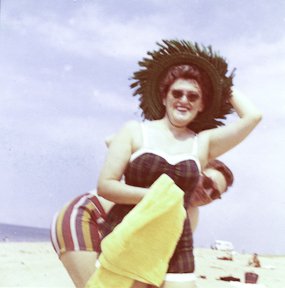 Yes, that's Dad peeking behind. And get a load of his trunks!
And here is my all time favorite beach hat. A bucket shaped straw hat covered with fuschia feathers.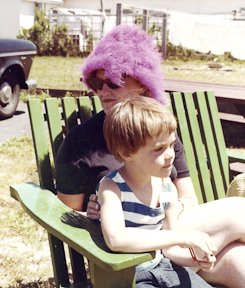 Ok. Stop laughing.  It was trés chic.  And the shades were turquoise and black striped cat eye shaped.  It was the sixties and she embraced it.  I did my share of modeling in that hat.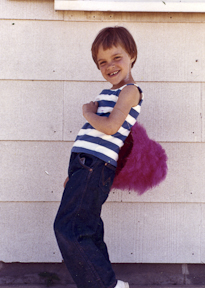 The best part about Mom's eye for fashion is that she enjoyed what she wore and didn't really care what other people thought.  Fortunately for me she had good taste.  No teen wants to be seen with a mother in Birkenstocks and white socks, if you know what I mean.  In later years, she did go the wash and wear route, but even then she had a few items that would catch the eye.  I especially loved her gold lamé slippers.  She was an original, a kind of free spirit, a bit of a dreamer and the best mother ever. Miss you Mom.