Ahh fashion illustrations. Always on my mind. There's nothing better on a cold winter day than to curl up with a great book, a hot cup of tea and (hopefully) a crackling fire in the fireplace.  If you love fashion drawings, costumes, movies or all of the above, here are 5 books about fashion illustration of all kinds that I highly recommend.
LIZ'S FAVORITE FASHION ILLUSTRATION BOOKS ARE…
HILDA GLASGOW OU L'ESPRIT DE LA MODE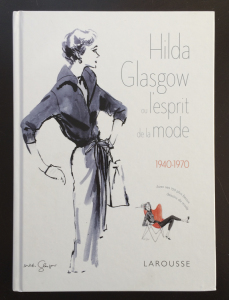 Obviously #1 on my list.  Just a few years ago,  not in my wildest imagination could I have made the following statement – Here's a beautiful book all about Mom and her amazing fashion illustrations!  French publisher Larousse has created this extraordinary coffee table book complete with 140 of Hilda's drawings and a detailed biography written by my very talented cousin, Jennifer Wittes. C'est en francais, but if you can find a copy where you live, it's a picture book, so the drawings are a language that everyone can read! In France, you can find it in many places including Amazon.  Magnifique!
MASTERS OF FASHION ILLUSTRATION BY DAVID DOWNTON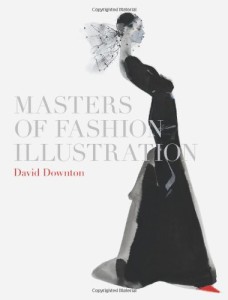 David Downton, one of the world's leading fashion illustrator, has created this stunning book which showcases the work and the lives of the 20th century's most acclaimed fashion artists, including Erté, Boucher, Andy Warhol and concluding with a portfolio of Downton's work.  More here.
100 YEARS OF FASHION ILLUSTRATION BY CALLY BLACKMAN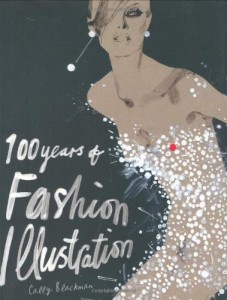 This book is a comprehensive history of fashion illustration over the last century and how fashion and it's drawings reflected the larger political and cultural changes in the world. To see some of the 400 images in this wonderful book, go here.
AN ILLUSTRATED HISTORY OF FASHION:500 YEARS OF FASHION ILLUSTRATIONS BY ALICE MACKRELL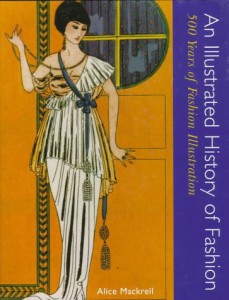 To quote the blurb, as it says it all, "A chronological account of the evolution of dress which covers 500 years of fashion, as seen through the art of its period. The illustrations range from early woodcuts through the development of fashion plates and the rise of fashion journalism to the use of film, photography and the Internet." In other words, how we got to here! For more…
HOLLYWOOD SKETCHBOOK:A CENTURY OF COSTUME ILLUSTRATION BY DEBORAH NADOOLMAN LANDIS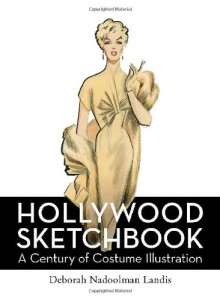 Mom and I were both movie fans.  I have a fond memory of her waking me up at 2 in the morning so we could watch Pride and Prejudice with Laurence Olivier. It was our thing.  So, needless to say, I love this book. Academy Award  nominated costume designer Deborah Nadoolman Landis shows how the drawing "provides a blueprint for the creation of a costume and a character". Over 400 previously unpublished illustrations are featured with a rare view of the portfolios of Hollywood's greatest designers. For more…
That's my list.  One more thought, it would help me to know if any of you are interested in perhaps purchasing Mom's book.  I am talking with the publisher to be able to sell them through our site and it would be helpful to see if there is an interest.  You can post a response here.  Thanks everyone! And remember only 38 more days until Spring!