I met my friend Joan Rafferty when we both attended the School of Visual Arts as photo majors.  Joan, along with a couple of other women from those days (Katherine Andriotis and Flori Seltzer, fyi), has been a lifelong friend.  She remembers Mom well and has been incredibly enthusiastic about the business.  She came to the first NY Gift Show that I did with Kitchen Papers and stood there quietly looking at all the new products.  She turned and a said "Liz, you have to do a coloring book."  She remembered all the hours spent with her daughter, Coco, coloring the usual books that were on the market.  She wished there was something more in it for her on a creative level. And so, a coloring book of Mom's drawings would bridge that divide of playing with a 3 year old, loving how they were growing up, being out of your mind bored and getting to create something fun yourself.   It's an adult coloring book, so to speak.  But in a clean way…  I took Joan's idea and ran with it.  Angie at Kitchen Papers loved it and so the process began. Instead of it looking like a traditional coloring book, I recreated the style of Mom's sketchbook.
And inside are 16 drawings ready for color and then your wall.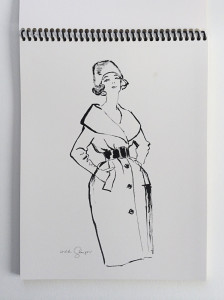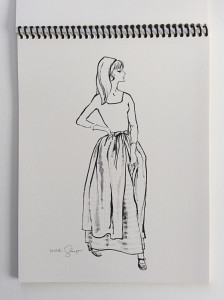 We introduced this at the AmericasMart Gift Show in Atlanta this past January.  We set up samples and colored pencils and soon,  I had a table full of people happily, peacefully coloring.  Like I've found with Mom's drawings in general, they were transported back to a happy, easy time thinking of nothing more than which pencil to pick. And when they were done, each asked shyly if they could take their drawing with them.  I was smiling from ear to ear.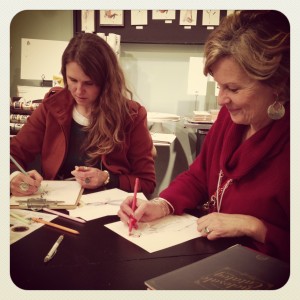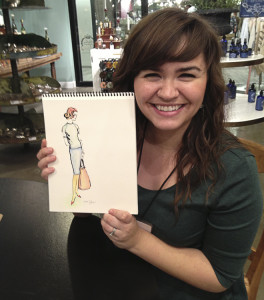 I wish I had Mom's original sketchbooks but hopefully they looked something like this.  What a wonderful collaborative effort between old friends from school, new friends from Kitchen Papers, Mom and me.  It's really amazing to be able to have an idea and see it happen.  I am one lucky lady!
And if you decide to get Hilda's Sketchbook, I'd love to see what you do with them. Post them to our Facebook page!
Hilda's Sketchbook: A Coloring Book is for sale now at our store. Happy coloring!