Just for fun, I've decided to start a little contest series.  Here's the first one.
I'm so lucky to have been left many things from my family, including many, many photographs.  My grandparents documented their daughters growing up and then my father, who was a wonderful photographer as well as a painter, took over the position.  I always had a camera pointing at me and honestly, I kind of hated it after a while, but then I became a photographer myself which has a touch of irony.  In any case, now I get to share these photos with all of you.  And from the feedback that I get, it seems that you're enjoying them.
Here's a classic from about 1926 or so.  I think it might have been Mom's graduation picture from Hebrew school.  I seem to remember her telling me this.  Mom's father, Lazar, was an atheist and Cilka was Orthodox. She kept Kosher.  Whatever made her happy, he'd always say.  And I guess this included sending their daughters to Hebrew school.  Anyway, here's the photo: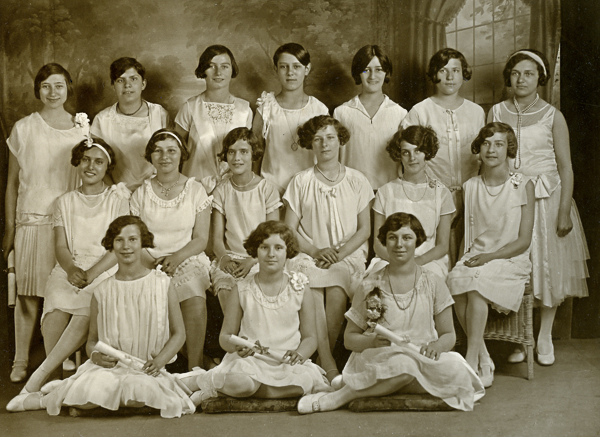 and here's the contest:
Which one of these lovely young ladies is Hilda?  The first 5 people who get it right will receive one of our hand mirrors.  Please post on our Facebook page.  Unfortunately because of the cost of overseas shipping, I can only honor responses from the US.  Sorry to all our fans around the world.
Once a month, I will add another contest, so please keep in touch.  And tell all your friends!