Styles change with the decades and fashion reflects the times. The flapper girl of the 1920's freed herself from the corseted  figure of decades before.  Women had just gotten the vote. Traditionally male occupations like secretaries were being overtaken by the ladies. They cut their hair and wore their dresses short and straight. They started taking on traditionally male jobs, such as a secretary. They appear to be dressing for themselves rather than for the men in their lives. The clothes were comfortable, practical and also fun and sexy.  Miriam Rettich, fellow artist and life long friend of Mom's, told me that she used to wrap her bosom so she looked flat chested. My Grandpa Lazar was quite shocked when Grandma Cilka, who always had long hair, came home with it all bobbed off. It was a feminist revolution of sorts. Modern times!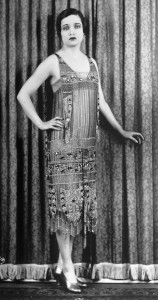 The look of the 1950s was quite the opposite. The hourglass figure was in and another version of the corset was the thing to wear.  I call it armor.   I mean, really, take a look.  Now I know where Madonna got here wardrobe ideas.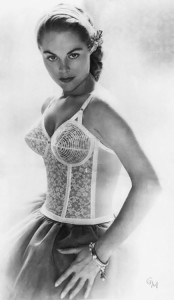 And this is what Mom was drawing in those years.
I love Mom's lingerie drawings. They don't reveal much, but are still alluring. These were women post World War II. The 1920s saw a start of life outside of home and family. Then with the Depression of the 1930s most were scrambling just to survive. The 1940s brought the war and jobs that needed to get done while all the men were overseas. Women were working in factories and building airplanes. It was a new life of possibilities. The war ended in 1945 and everyone was happy to have the boys back.  They had to give up their jobs and, in the late 1940s and 1950s, once again, for the most part, took up the role of mothers and wives and it's no coincidence with that shift that the fashion changed to exaggerate the female form. The shapely figure was the ideal woman. These girdles must have been hot and uncomfortable and certainly not for Rosie the Riveter. But, generally speaking, she didn't exist anymore.
The 1960s revolution went back to a 1920s feel. Boyish figures and haircuts. Short straight dresses. Long, unfussy hair. Bell bottoms. Burning bras! The Pill! The children of the women wearing the all-in-one girdle were rebelling and once again, the fashion reflected the new found freedom.
Today it seems like anything goes. I don't know what that says about our society, but I do think that more and more, women can be whoever they want to be. And that is everything.
And if you're loving Mom's lingerie drawings, they've just been added to our collection of Limited Edition Prints at The White Cabinet. And all sizes are 20% off as an introduction of these lovely ladies.