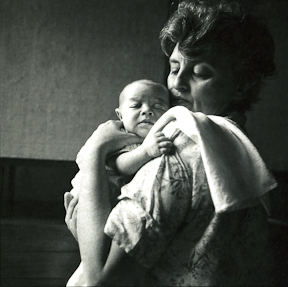 August 4, 1958, Hilda was in Doctor's Hospital on the Upper East Side of Manhattan giving birth to me, her only child. She was almost 45 years old and had been married 20 years. She decided she wanted a child and had no worries that there would be any problems. Nowadays, this is a much more common occurrence, but 55 years ago, it was almost unheard of. Mom was a ground breaker in many ways.
I can't believe that I am 55 years old.  In my mind, I'm 25 years younger.  And people say that I don't look my age, whatever 55 is supposed to look like.  But I do know that the excitement and success of having this new business makes me feel like I shouldn't be getting the Senior discount at the supermarket.  Thanks Mom, for keeping me young!  You still are taking care of me.
Sandy circa 1957 is one of my very favorite drawings.  I just love her outfit!  You all give me  a gift every time I hear how much you love Mom's work, so for my birthday present to you, from August 3 thru 5, a 9×12 Limited Edition Print of Sandy will be on sale for $37.50.  She's 50% off!  I want everyone to be able to have her hanging in their boudoir.
Sandy is printed on a heavyweight fine art paper called BFK Rives, mimicking the look and feel of the original.  She is numbered and her name and date are hand written in the corner.  "The White Cabinet" seal is also embossed on the page to ensure that your have the real thing.
Thanks everyone.  I think this is going to be one of the best birthdays ever!