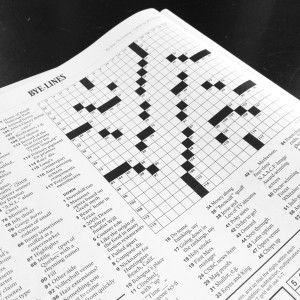 Mom was an avid crossword puzzler.  Or possibly fanatic would be a better word. She did the Sunday NY Times puzzle in ink. For those of you not in the NY area, this is the pinnacle of crosswords.  It's a Sunday thing to sit down with some coffee and a pen (or pencil for those not quite so bold) and spend the day happily toiling over the squares and clues.
Much to my surprise, I found out that Mom and her beloved crossword puzzles had something in common – their birthday was one day apart.  She was born December 22, 1913 in Brooklyn and it was first published in the New York World (in New York as well) December 21 of the same year.  It's their 100th birthday!  Mom was the 3rd daughter of Lazar and Cilka Richman (originally Reichman) and crossword (originally word-cross, changed because of a type setter's error) was the baby of Arthur Wynne.  As an aside, Mr. Wynne asked his publisher if he should copyright the game, but was discouraged from doing this as his boss figured it was a passing fad. Let me point out that the New York World no longer exists…
In 1924,  a couple of recent Columbia University grads, Dick Simon and Lincoln Schuster, decided to publish a book of crosswords at the urging of Mr. Simon's aunt.  And the rest is history.  In that same year, Mom was reading books like Jane Eyre and Pride and Prejudice.  It's unknown if she owned the crossword book.
The crossword became so popular, that commuter rail lines had dictionaries in every car. There was a Broadway show called "Puzzles of 1925". And the roaring 20's wild style lead to inventive dresses with the puzzle as their fabric.  I think Mom would have loved this dress!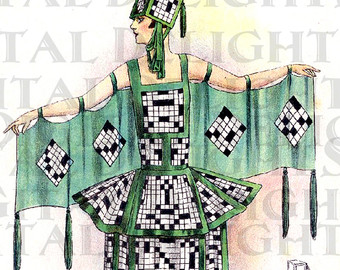 The puzzles live on as do Mom's beautiful drawings.  I know people are enjoying them both.  Happy 100th Birthday to Mom and Crosswords!