This whole venture is all about my mother and her immense talent, but when I was growing up, the artist that everyone looked up to wasn't her.  It was my father, Bernard Glasgow.  He was a fine art painter whose work was exhibited at places like the Brooklyn Museum with the likes of Georgia O'Keefe. He was represented by 57th Street galleries in Manhattan.  Mom and Dad met at when they were taking classes at the Art Student's League.  In those days, anyone who was serious about art went there.  Dad was a class favorite of teachers  Rico Le Brun and Jon Corbino.  He was a talent.
Bernie was born in 1914 in the Bronx.   He couldn't wait to get to Manhattan and rented a cold water loft there when he was 17 and gradually moved out of his parent's apartment. He went to NYU and then the League.  His style of work matched the progress of the century.  He started off realistic.
In 1941, he won a prestigious WPA award to paint a U.S. Post Office mural that still hangs in Salem, West Virginia.  (I have to do a road trip soon.)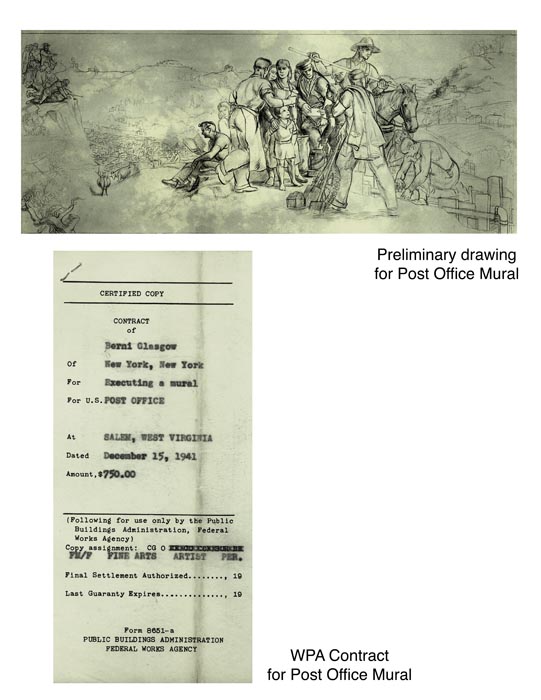 He served in North Africa during WWII, but saw no action.  Stationed in Casablanca, he painted murals and camouflage and was honorably discharged as a Staff Sargeant.  After the war, his fascination turned to Cubism.
and then Abstract Expressionism.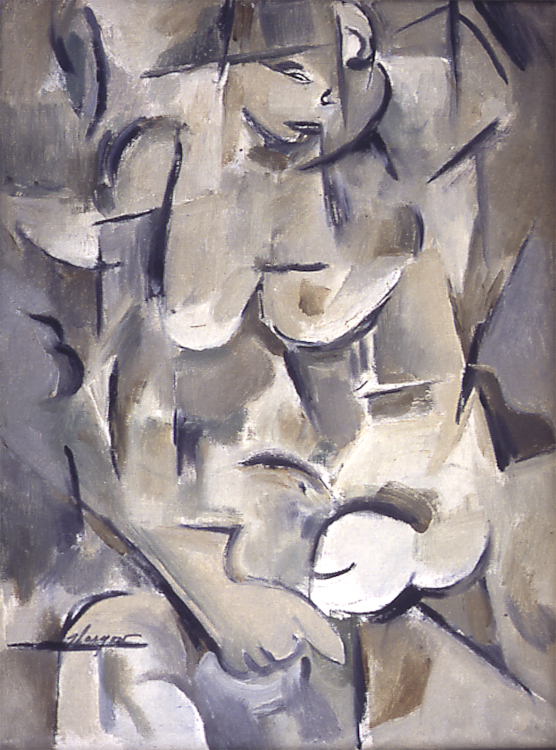 He pretty much stopped painting by the early 1960's and became an art director at a Madison Avenue ad agency.  And yes, Mad Men does bring me back.  It's like a recreation of place I remember visiting as a kid.  He was a curious man, always creating something, whether it was designing a desk or taking photographs.  He loved kids and was a favorite parent to my friends.  He was always taking us to the amusement park, beach or, his favorite, the many NY museums.
Some of his paintings were out in the world and many were in our apartment.  When he was about 70, he got a call from a gallery who was trying to find Bernie Glasgow. They had just bought one of his paintings at an auction.  Coincidentally, the gallery was a block away from where we lived.  I walked over with him and there was a large, bright realistic painting he had done of a party in Rockport, Massachusetts in the 1930's.  He had been Jon Corbino's teaching assistant there.  I remember him looking over the painting and I could see him traveling back to those years.  Then he asked how much it was selling for.  The dealer said $7500.  They had a nice talk and when we walked home he stopped and said "When she said $7500 I almost had a heart attack".  He couldn't believe his work could sell for that amount of money.  The painting did sell a few months later, but unfortunately, Dad had passed away by the time I found out.
Over the years, Mom and I found renewed interest in his work and it's now represented at the Papillon Gallery in Los Angeles.  Dad was a doting father. He would have been thrilled to know that he was able to take care of me and Mom long after his death with the sale of his paintings.
He was the real deal.