Mom certainly was a groundbreaker, but she wasn't alone.  It took quite of bit of detective work on my part, but here are 5 other women of her era who were also top fashion illustrators of the mid 20th century.  Enjoy!
DOROTHY HOOD (1902-1970)
Dorothy Hood was born in New Holland, Pennsylvania. With Art Director Harry Rodman, they created "The Lord & Taylor Look" in the 1930's. She posed her models doing real life activities that the average woman could relate to. She set the standard for the look of the high end department stores and showed customers what the well dressed American Woman should wear. In the 1950s, a motor bike accident hurt her right arm, but she taught herself to draw with the left. She continued to work for Lord & Taylor until her death in 1970.
---
DAGMAR FREUCHEN-GALE (1907-1991)
Dagmar Freuchen-Gale was born in Denmark and came to the United States in 1938. She worked for Vogue and Harper's Bazaar. In 1947, her drawing was chosen for the cover of Vogue when they introduced "The New Look" by Christian Dior.  For 20 years, starting in the late 1940's, she taught fashion illustration at the Art Student's League in New York City.
Her second husband, Peter, was quite a character, as you can see from the photo above. Read about Peter Freuchen here.
---
ESTHER LARSON
I honestly couldn't find a bio on Esther Larson. I'm including her because Mom knew her and always loved her work.  One of her big clients was Bergdorf Goodman. Mom remembered her well. She said Esther was an amazing dressmaker as well. She'd throw a piece of fabric down on the floor, look at it for a few minutes, take a pair of scissors and start cutting. And she never failed to product a beautiful garment. A woman of many talents and not a blurb on her in all of the internet. So many women, lost to the wind. Here's one of her later drawings.
---
ESTA NESBITT (1918-1975)
From the 1940s to the 1960s, Esta Nesbitt illustrated for Harper's Bazaar, Madamoiselle and the New York Times.  She was also an instructor at the Parson's School of Design from 1964-74.  After her career as a fashion illustrator, she became a children's book illustrator, performance artist, xerography artist and filmmaker.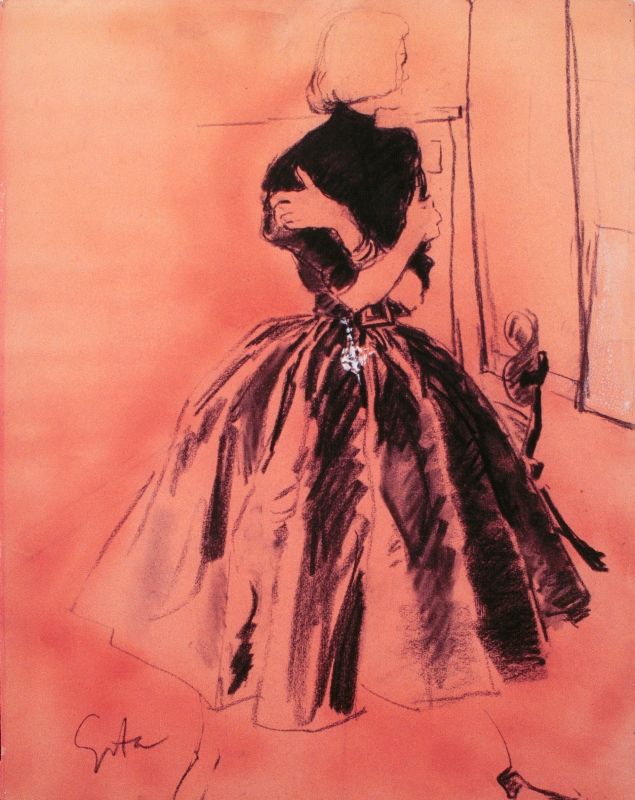 ---
MARY SUZUKI (died 1974)
Mary Suzuki grew up on a farm in California.  According to her only child Taro, she was very ambitious. "She did a lot of work in the 50's and 60's for Harper's Bazaar and Seventeen Magazine. When Andy Warhol first came to N.Y., he showed her his book and she told him to do shoes and got him some work." Fellow artist Mia Carpenter said of her work "Her figures were distinguished by the absence of eyes...". When Pop Art started changing the style of commercial drawings, Mary had trouble adjusting.  After fashion illustration, she illustrated an (unpublished) children's book, designed Twiggy paper dolls and did fine art oil painting. She showed in the first feminist art show at the Huntington Hartford Museum.  Mary was active into the 1970's.  In later years she earned a living doing illustrations for clothing patterns such as Butterick and designed clothing as well.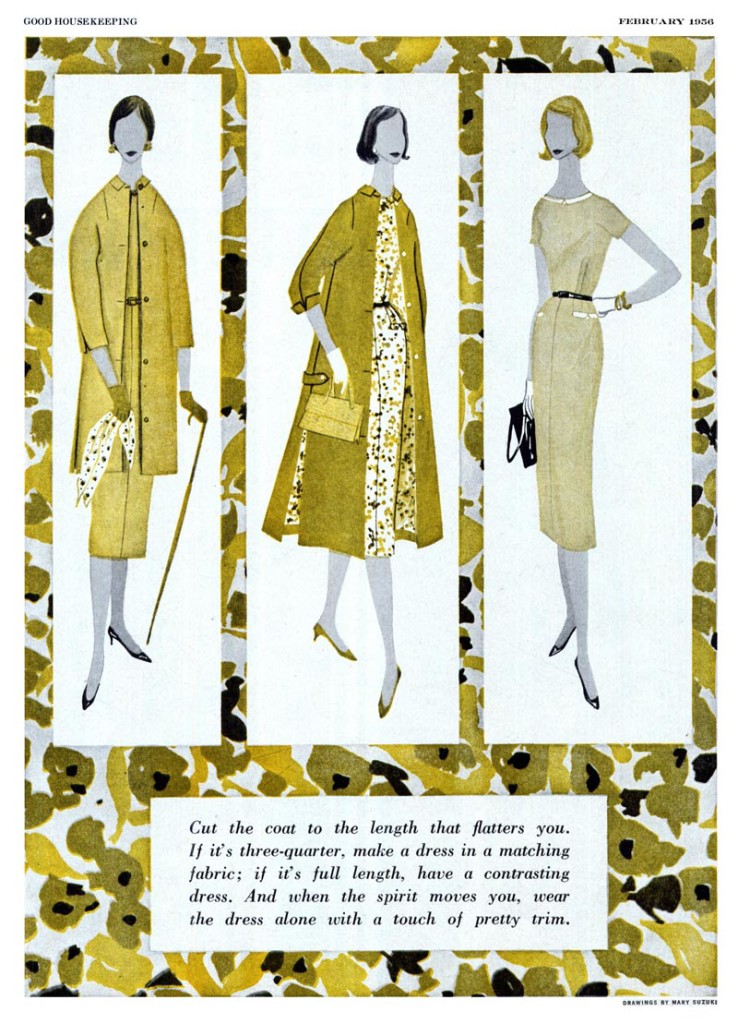 I like to think of Mom and all these ladies gathering at Wally's (see post "Hilda's Hangout" from July 7,2011) sketching and chatting, sharing war stories. Who knows?  Maybe Dagmar was complaining about her husband bringing home bear fur and Mary telling us about her suggestion to Andy Warhol about soup cans.  You never know. What I do know is that there we're made to feel that few women were out there in a "man's world". I'm beginning to think that that's only what they want us to think… but I know otherwise.